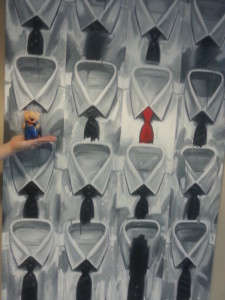 Me: Prodigal, What a lot of ties!
Prodigal: They keep repeating, I keep seeing the same thing over and over again.
Me: Yeah sometimes I feel life is like that. I feel like I am repeating things over and over.
Prodigal: I have felt like that too.
Me: Today I can share what Chuck Swindoll says about what God might be doing in these times.
Chuck talks about this in his book Living on the Ragged Edge.
<God patiently repeats things until they are learned. We are the ones who pass it by. We are the ones who walk away, so God brings us back to the same lesson to learn it again. And He doesn't give up when we pass it by. He brings us back again and again to learn our lesson well. We get weary of learning the lesson and we run from it. We turn it off. Yet He repeats the same lesson. He repeats it and repeats it and repeats it until finally the light comes on and we learn it. Why? Because God seeks what you and I try to escape. God pursues what you and I turn off. God makes a permanent lesson out of what you think is a temporary and passing experience.
One thing I have discovered from life is that until we have learned the complete lesson from a crushing experience, we'll pass through it again at a different age and under different circumstances. For example, one marriage that doesn't work will reap another marriage that doesn't work until you learn that you, in fact, are the problem.
God has used repeating patterns in my life to teach me a lesson. See when they happen. Sometimes we avoid by saying, I just have bad luck. Sometimes we say those people are drawn to me. Sometimes we say I am being punished. The truth is that God is trying to teach us something about ourselves. The truth is that this relationship, that person, this circumstance that is repeating is trying to show you something about your life. God wants you to not respond the same way that you keep responding. He wants you to change. He wants to make something new. We want to fight this, run from this and we are scared of this. So talk to God right now and ask Him how he wants you to respond different in your repeating circumstance.
Isaiah 43:19
See, I am doing a new thing! Not it springs up; do you not perceive it? I am making a way in the wilderness and streams in the wasteland.
Jennifer Van Allen
www.theprodigalpig.com
www.faithincounseling.org