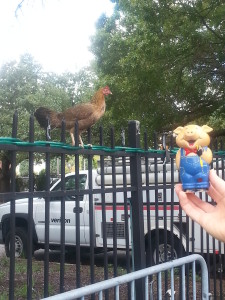 Me:  I like your rooster friend!
Prodigal:  He is making more noise than a cornhusk mattress at the moment.
Me:  I don't mind it at all.
Prodigal:  If you can share still then go ahead.
This is from Overcoming Spiritual Blindness by James Gills, M.D.
Christian psychiatrist Paul Tournier distinguishes between the person and the personage.  The person is the inner part, and the personage is the outer shell.  Many of us go around with manufactured smiles, and manufactured answers to others.  Simply agreeing with others, or asking simple, practiced questions are all a function of hypocrisy.  Yet one who is inwardly true has a lot more to say and can ask questions of another that demonstrate authentic concern.  In these and other ways, they begin to resonate with the inner person of others.
Let me give a word of reassurance to those who fear their own hypocrisy.  There is an important distinction between a hypocrite and the faithful servant who simply feels inadequate, but continues to press on into fullness of faith.
Job 5:1-2
Call now, if there be any that will answer thee; and to which of the saints wilt thou turn?  For wrath killeth the foolish man, and envy salyeth the silly one.
Jennifer Van Allen
www.theprodigalpig.com
www.faithincounseling.org