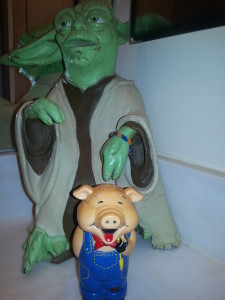 Me:  I didn't know you were friends with Yoda?
Prodigal:  Yeah, he is short like me.  Also he likes to give out wisdom and I like to listen to wisdom.
Me:  Well, this is some wisdom from a strong woman of God named Teresa of Avila, that came from the book Great Women of the Christian Faith.
Thine am I, I was born for Thee,
What wouldst Thou, Master, make of me?
Give me death or give me life
Give me health or give me infirmity
Give me honor or give obloquy
Give me peace profound or daily strife,
Weakness or strength add to my life;
Yes, Lord, my answer still shall be
What wilt Thou, Master, have of me?
'Tis Thou alone dost live in me.
What will Thou I should do for thee?
John 5:30
I can of mine own self do nothing:  as I hear, I judge: and my judgement is just; because I seek not mine own will, but the will of the Father which hath sent me.
Jennifer Van Allen
www.theprodigalpig.com
www.faithincounseling.org