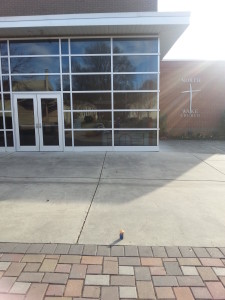 Me:  Prodigal are you going to church?
Prodigal:  Yep, I am going to church today and wanted to hearing something encouraging.
Me:  Can I share something encouraging about church?
Prodigal:  Sure
Sunday is my favorite day of the week.  The past Sunday I prepared my heart, put on a dress and grabbed my bible and out the front door I went.  I was going to church.  Then later on I was going to prayer meeting that day at my church.  One of my favorite times is prayer meeting.  We get to talk to God as a body of Christ together!  I think that is amazing!
This past Sunday was encouraging to my heart and left me awed at God, and the leadership that I sit under.  An integral leader has to make tough decisions when they are following God.  So when I see the leadership in the church making tough decisions to follow God then it makes me proud, it makes me encouraged to keep following God myself.
There was another way that I was encouraged.  One of the best parts about prayer time is you never know the words that will prayed and how they strengthen you.   There was a prayer that was prayed for the couples in our church and that one prayer was refreshing as an oasis in the driest dessert.  I left that prayer meeting overwhelmed by the Lord and his servants.
So now I would like to try and pass on the encouragement.  I have a prayer for you.  May this prayer support you and encourage you this week.
My Lord, the one who loved me first.
My God, the one who protects me.
My King, the one who guides me.
May God give you strength wisdom and insight as you walk in the front leading us on the path that God has chosen for us.  May you stay focused on Christ and not be distracted by men's plans as you make decisions.  May your faith grow beyond the need for any sight as you speak God's words.  May God show me how to support and encourage you during this journey.
In Christ Name I Pray
Hebrews 11:1-3
Now faith is the assurance of things hoped for, the conviction of things not seen.  For by it the people of old received their commendation.  By faith we understand that the universe was created by the word of God, so that what is seen was not made out of things that are visible.
Jennifer Van Allen,
www.theprodigalpig.com
www.faithincounseling.org