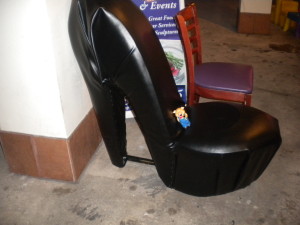 Me: That is a shoe!
Prodigal: Well, you said you were going to share about gospel shoes, so I thought I would be prepared.
Me: Well, I am glad you are thinking ahead.
This is from the book Overcoming Spiritual Blindness by James P. Gills, M.D.
When we have this joy of believing, we will also have an eagerness to share the gospel with others. This is the gospel of peace that may be likened to the shoes of a Roman foot soldier. Those shoes provided the strength and flexibility that a fighter would need to be fleet. However, perhaps even more important than the mobility provided by the shoes was the stability it gave him in battle. The Roman soldier's shoes were heavily studded with nails in the sole. This gave him the ability to hold his ground against the enemy. The believer likewise has sure footing in the gospel. He is grounded in the "gospel of peace" where there is a wholeness, a completeness, a satisfaction that he possesses, and a peace in the fullness of God's covenant blessing–shalom.
Stand your ground today, knowing that the Lord goes before you.
For if these things are yours and abound, you will be neither barren nor unfruitful.
2 Peter 1:8
Jennifer Van Allen
www.theprodialpig.com
www.faithincounseling.org