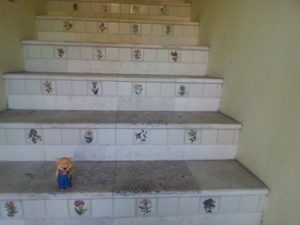 Me:  Wait up Prodigal!  I am glad that I caught up with you!
Prodigal:  Sorry, but I am jumpin' 'round like cold water on a hot skillet.
Me:  Well, take one break while I share!
This is from the book Psalm 91 by Peggy Joyce Ruth and Angelia Ruth Schum
When I think of how utterly impossible it is to protect ourselves from all the evils in the world, I am reminded of sheep.  Sheep have no real protection other than their shepherd.  In fact, a sheep is the only animal I can think of that has no built-in protection.  It has no sharp teeth, no offensive odor to spray to drive off its enemies, no loud bark, and it certainly can't run fast enough to escape danger.  That's why the Bible calls us God's sheep!  God is saying, "I want you to see Me as your source of protection.  I am your shepherd."  Now He may use doctors, policeman, fireman, storm cellars, bank accounts, and so forth to meet our specific needs, but our hearts have to run to Him first as our shepherd and our protector.  Then He will choose the method He desired to bring about the protection.
God will protect!  You are one of His sheep and what good shepherd does not protect His sheep?
Psalm 30:2
O LORD my God, I cried to you for help, and you have healed me.
Jennifer Van Allen
www.theprodigalpig.com
www.faithincounseling.org