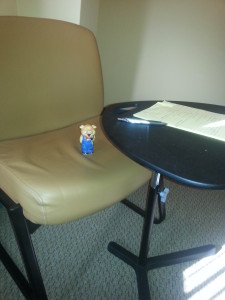 Me:  Howdy, Prodigal!
Prodigal:  Shh!  I am trying to take a test.
Me:  Sorry, I just was happy to see you!
Prodigal:  No Problem, I can take a break anyway.
Me:  Well, let me share with you about some of the test we take at times.
Dr. David Jeremiah in his book Slaying the Giants In Your Life talks about test we may take.
When you're facing temptation, stand firm.  Know that Christ has been there, that His Spirit is with you now, that God is strong enough to pull you through it.  With those truths in your grasp, you'll experience victory over temptation every single time.
Remember also that we actually need these tests.  Did you know that?  Yes, we need them because they help us demonstrate our love for Christ.  In school, you need to take a test occasionally to prove what you've learned.  Otherwise there'd be no measure; otherwise you wouldn't even have to study and grow wiser in the subject. Life is the same way.  Without the occasional test, how could we measure our growth in Christ?  Why would we even need to depend on Him?  Everyone of us could run the perfect race, and what would it mean?  Nothing at all.  But when we have every possibility of stumbling, every possibility of choosing the wrong path, and we stand tall and walk wisely just the same, God is glorified in this world and in the next.
What has been happening this week?  God is showing you it is test time!  Now pull out the word of God and stand firm in God's word so that God will be glorified at the end of this.  Also you will be able to see that you have matured in Christ.  That all that time in God's word has helped!
2 Corinthians 1:8-10
For we do not want you to be ignorant, brethren, of our trouble which came to us in Asia:  that we were burdened beyond measure, above strength, so that we despaired even of life.  Yes, we had the sentence of death in ourselves, that we should not trust in ourselves but in God who raises the dead, who delivered us from so great a death, and does deliver us;  in whom we trust that He will still deliver us.
Jennifer Van Allen
www.theprodigalpig.com
www.faithincounseling.org