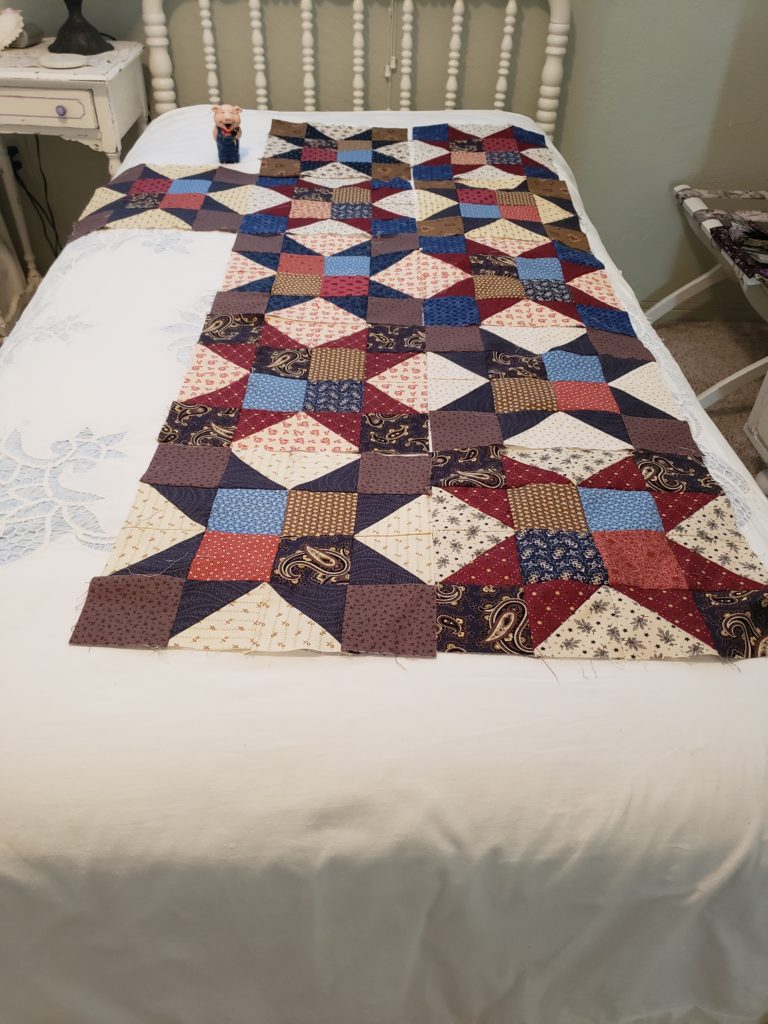 Me: The quilt is looking good!
Prodigal: Yes, it takes some work.
I was sitting, listening, and praying all at the same time. I was at work. This was a difficult hour. The room was a comfortable temperature. The office was the same. My desk was to the left of me, and then two chairs in front of me. I was looking at the person sitting in front of me. I had been seeing this person in counseling for several months.
I had been praying a lot for this person. See I could tell she wanted her way, and not God's way. Her trials could only be solved by God's way.
I had listened, empathized, and attempted to explain how God work's best in our lives when we give up control. When we trust that He will lead us to the mountain top. We can then have a life where we stop fighting God.
She continued to resist God's way. Her focus was about trying to keep her way. There had to be a way, that this would work. She just had not thought of it yet. The problem is that her solutions had not been working for over 25 years.
The issues that I was having is that after several sessions I began to understand something. The real problem was that she was attempting to get me to agree with her path. After weeks of this, we were going to meet a crossroads. See God's way, and our way often reaches that point. We find ourselves in a place where we can't hang on to both. We can't continue. We come to that fork in the road. We have to choose.
I had reached that fork myself, so I understood how scary it could feel. I also understood why a lot of Christians have taken their road, and not that of God's. Often God does not show us what His path will reveal. We cannot see all the twists and turns. We cannot see how safe, easy or difficult it will be. He really expects us to trust Him.
So we tell ourselves that at least on our path. I can control what it looks like. What we forget is the sovereignty of God. God can change you path at anytime. You can think the path from your point of view looks straight and easy with shade. After traveling for 500 yards He can make sure that it reaches a desert, a cliff or mud.
When we choose the path of God, it may be difficult, but we grow in trust,and we mature in Christ. We also receive unexpected blessing along the way.
After wrong turns, and trials in my life, I had begun to understand a little about this journey of trust. So here I was with a fork in the road as she was. She was so focused on her path, but she was trying to lead the counseling sessions on the path that was made by her. That meant she wanted me to go that way also.
If I agreed to her way. I would be ignoring God's way.
No path, no matter how attractive it looks, is worth ignoring God's way.
I knew the truth. How do you show someone else the truth? That is why I was praying while I was listening. The Holy Spirit had to show me, and I had limited time.
She suddenly started to quote scripture. She said one of her favorite verses was Proverbs 3:5.
Trust in the Lord with all your heart and lean not on your own understanding.
The scripture must have meant something to her. She had memorized it. I listened, and was glad that scripture was brought up.
She then began to explain to me what that scripture meant. She said that Trust in the Lord meant she was suppose to do all she can. What she can't do she just gives to the Lord.
Now let's look at that chapter together.
Proverbs 3:5,6,7
Trust in the Lord with all your heart and lean not on your own understanding; in all your ways acknowledge him, and he will make your paths straight. Do not be wise in your own eyes; fear the LORD and shun evil.
We are not to look to our wisdom, and our way. We are not to think our way is wise. We with our whole heart, and not part of it turn to the Lord. It is not about our will but the Lord's plans.
At that moment I thought how sad. She cannot understand scripture. She cannot see the truth of scripture. The Holy Spirit reminded me of more scripture.
Luke 24:45
Then he opened their minds so they could understand the Scriptures.
With the truth of that scripture, I understood.
The Lord had not opened her mind.
We forget that people can go to church, serve on ministries, memorize scriptures, and yet are lost.
In order to know God. You can't just know scripture, you have to be able to apply it in your life.
Can you apply those scripture that you are reading on Sunday. Can that person who is teaching it have the fruits of the scriptures in their life?
To me this day. It was another chance to praise God for the wisdom He has given me. It was also another reminder that sometimes what people say they are, and try to look like really is not the truth. Once you to start getting to know them, and ask questions, you find that their is no understanding of scripture. They are unable to apply it to their lives.
With this understand we begin to see that we have two paths to follow. One is God's, and one is man's. We need to be reminded when we have these forks in the roads that others who cannot understand God's truth will tempt us with the wrong path. They may even quote scripture, but it is still the wrong path. The Holy Spirit with scripture will tell us the truth.
We can love another, but still discern where people are spiritually. The church is in the world, but lets not forget the world is in the church. We need to have eyes, and ears open to perceive the truth, and not fall for lies.
Ezekiel 12:2
Son of man, you dwell in the midst of a rebellious house, who have eyes to see, but see not, who have ears to hear, but hear not, for they are a rebellious house.
Jennifer Van Allen
www.theprodigalpig.com
www.faithincounseling.org