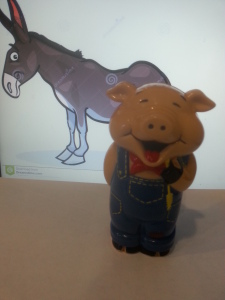 Me: Good Day, Prodigal!
Prodigal: Hello and let me introduce you to Mr. Donkey.
Me: Hi, What are y'all doing on this day?
Prodigal: We took a walk through the town just watching people.
Me: Would you like to stop for a minute of your day to hear a story?
Prodigal: Sure and make it about a donkey!
Me: That I can do!
This is about a story from a newsman who interviewed Billy Graham with Ford Philpot present. The story begins with
"Dr. Graham," the newsman said, "you travel all over the world and great throngs of people come to hear you preach, and people lavish you with gifts. Just how do you feel about this?"
"Have you ever heard of Palm Sunday?" Billy asked. "Yes," the newsman replied, "the time when Jesus rode into town through that huge crowd of cheering people." "You know," Billy continued. "that donkey Jesus was riding could have really had the big head. He could have thought to himself, "Boy, look at that big crowd, listen to their cheers, they are even throwing down palm branches for me to walk on. I am really something."
"The donkey would have been completely in error. The crowds had come to see Jesus, the cheers were for Jesus, the palm branches were for Jesus. This is my situation. I am like the donkey, I am the conveyor of Jesus. I merely present and represent the Son of God. The crowds don't really come to see Billy Graham. They come because they have a hunger to know God and to know his Son.
"Therefore," Billy added, "some day I want to take every honor that has come to me, and I want to place them at His feet, and say "Thanks you, Jesus, for permitting me to share these for a while, but here they are. They really belong to you."
I think to many of us in our lives are like this donkey. Let me explain. Most of us have jobs right now or have had in the past. We go to a building clock in and clock out. Most of us have others who look to us to complete that project or this project. End of the week or two weeks or month, money appears in our account affirming us of the work we have done. Day in and day out the same cycle continues. We have different projects talk to some different people but we complete our task and receive our money.
We lose site of the fact that God could be in these task. We lose site that God has control over these task. We place that burden on ourselves and we then take credit for good work or we begin to have low self esteem for work that is not done properly. We lose site that the ultimate approval of what we do in a day is not our supervisor, our coworker five feet away or our parents. It is not our friends or our spouse or our sibling. It is God. With that we surrender our day to the Lord with the task we have to complete that day. We surrender our need to have approval from others and seek God's approval. We do this because when something looks hopeless, when something looks like it is a mess beyond repairing, our wonderful God can come in and riding on a donkey and change our lives forever with his love that he has given us!
Zechariah 9:9
9 "Rejoice greatly, O my people! Shout with joy! For look—your King is coming! He is the Righteous One, the Victor! Yet he is lowly, riding on a donkey's colt!
Jennifer Van Allen,
www.theprodigalpig.com
www.faithincounseling.org