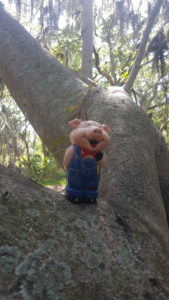 Prodigal:  The sunshine feels good on my face.
Me:  Yes, we are need of some light at times.
Prodigal:  Jesus is light.
Me:  That He is.
This is from the book Crazy Love by Francis Chan
Most Christians have been taught in church or by their parents to set aside a daily time for prayer and Scripture reading.  It's what we are supposed to do, and so for a long time it's what I valiantly attempted.  When I didn't, I felt guilty.
Over time I realized that when we love God, we naturally run to Him–frequently and zealously.  Jesus didn't command that we have a regular time with Him each day.  Rather, He tells us to "love the Lord your God with all your heart and with all your soul and with all your mind."  He called this the "first and greatest commandment"  (Matt. 22:37-38).  The results are intimate prayer and study of His Word.  Our motivation changes from guilt to love.
God wants your love and He is not that concerned with any perfection that you think you can give Him.
Ye are the light of the world.  A city that is set on a hill cannot be hid.  Matthew 5:14
Jennifer Van Allen
www.theprodigalpig.com
www.faithincounseling.org