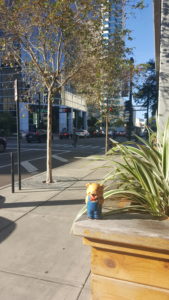 Prodigal:  You are talking a lot about yourself today.
Me:  Maybe I should not focus so much on myself.
Prodigal:  You do not want to become prideful.
This is from the book A Man of Grace and Grit:  Paul by Charles Swindoll
We love to promote and independent spirit without ever considering the value of time-forged character.  God never promotes like that.  God takes His time.  When God plans to use us, He puts us through the paces.  He allows a certain amount of suffering.  God may use the strong, stubborn, independent individualists in the world , but not long-term.  He much prefers the humble, the broken, the bruised, the humble, even the crushed.  He works more effectively in the lives of people who've learned they can't make it on their own, especially those who acknowledge they desperately need God and others.  
Keep yourself small.  Keep yourself as the one who needs Christ the most.  You quickly turn to pride and can quickly make decisions without Christ.  So remain as one who is desperately dependent on God.
For all the promises of God in him are yea, and in him Amen, unto the glory of God by us.
2 Corinthians 1:20
Jennifer Van Allen
www.theprodigalpig.com
www.faithincounseling.org