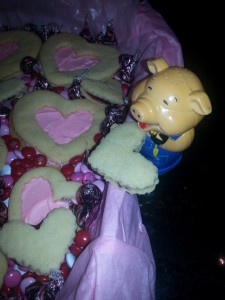 Me:  Prodigal, what are you eating?
Prodigal:  Some cookies that were made out of love for me.  They are even shaped like hearts!
Me:  Love that is a topic that is very popular.  Debra Evans talks about God's love versus human love in her book But For God.
Sometimes the people who are supposed to guard our well-being don't just disappoint us, they outright devastate us with their unthinking choices.  When they do, we are jolted by the reality that not only is love often conditional, but that their particular love for us has very real limits.  The enemy, seeing a prime moment to attack, then steps forward and says, "See? What you've always feared is true: you aren't worthy of love.  And this proves it."
But God reminds each of us that when anyone's love proves conditional, even "When your father and mother forsake you, then I will take you up" Palm 27:10.  Those are healing words, no matter your age, and no matter the source of your devastation.
Some of you are overwhelmed with the loss of your loved one who was suppose to do the right thing.  That love one who was suppose to love instead of turning the other direction.  The pain is so real.  You try to stuff down the pain, move forward and it is still ever presently there.  It has over taken you with grief and you are loss with thoughts of what this means about the person you are.  God sees you and feels the pain of the loss of your loved one.  God is the only one who really understands you right now.  God has been rejected by this person too.  Turn to God and let God share your grief.
Psalm 22:24
For he has not despised or scorned the suffering of the afflicted one; he has not hidden his face from him but has listened to his cry for help.
Jennifer Van Allen
www.theprodigalpig.com
www.faithincounseling.org